There are several large companies around the world focusing on mass timber construction as a viable alternative solution in meeting corporate sustainability objectives and measures in property development. Be it, a corporate head office, a campus building, or even a retail shopping precinct, the evidence is mounting that mass timber solutions are a pivotal and necessary response to meeting the reductions of C02 emission in construction, and beyond.
To demonstrate the impacts of global brands and their adoption of mass timber, here are some honourable inclusions. Walmart is set to finish its new home office in Arkansas in 2025. The project will be the largest corporate project in the United States to adopt mass timber construction. Included in the mix of large corporates is Google, who will soon finish its first mass timber constructed office in Sunnyvale, California. If you have one mega technology company, why not a second large technology company, Microsoft has already opened a mass timber building on its Silicon Valley campus and we are sure there are many more in the pipeline.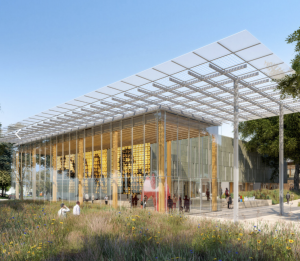 Microsoft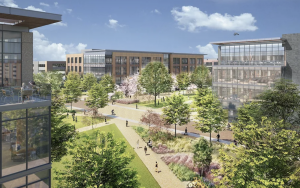 Walmart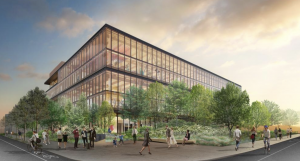 Google
So whats driving the change?
The first important factor is the move away from carbon-intensive construction processes and materials to more toward an efficient carbon reducing/eliminating sustainable way of building. Global construction accounts for a very large proportion of the CO2 (both embodied and operational carbon). With an increasing demand for infrastructure and housing globally (as populations heave) production is estimated to increase over time; unless there is a significant intervention.
A substantial part of the issues we currently face in the construction sector in moving toward a more sustainable way of producing buildings is that the industry largely remains resistant to change and the traditional methods of working and the materials chosen are familiar to industry stalwarts. Indeed the shift toward modern methods of construction is as much about the psychology of the stakeholders (ability to try new and novel approaches) as it is the availability of education regarding new systems and solutions.
A large push from the manufacturing industries have are already achieved significant carbon efficiencies, however the construction sector struggles to make the change as rapidly. The ambition is to see the large companies (Microsoft/Google) challenge the status quo and effectively, like a tidal wave, act like a force of nature (through leadership) so adoption is considered the new normal.
The second important factor is the cradle-to-cradle approach to buildings, in particular the circular economy and repurposing a building. A very large portion of our global landfill waste comes from construction waste. Included in the calculations is the waste from the demolition of a building or structure. The adoption of Lifecycle Assessments (LCA's) in order to evaluate cradle-to-grave environmental impacts now has a differential to consider, 'what if we didn't have to throw-away the building at end of life'? The mass timber construction sector has so much to offer in terms of a lifecycle perspective on buildings, that many are now viewing this new regime as a highly attractive proposition.
In a new report found here by the World Business Council for Sustainable Development the outcomes from thinking about circularity are extending to the construction sector and include, avoiding landfilling costs, the use of existing sites to extend vertically (above the building) and making use of the airspace above carparks, office buildings etc., which now offers an entirely new way of looking at our economy.
The third important factor is the intolerance of persistent over-reliance on carbon-intensive materials such as steel and concrete. At the conclusion of COP 26, and the creation of a global commitment from very large polluters like China and the United States etc., the likely changes to regulations and building standards in countries all over the world examining the amount of embodied carbon emissions in construction, will be a key focal point in the reimagined global construction sector in years to come.
Mass timber construction has created a new way of building. A method and a material that can dramatically reduce construction carbon emissions. It's time to ensure that we all do our part in making the world a more sustainable place for us and our children.
If you want to become part of a growing global movement, consider joining our organisation today. Why not come on the journey with us, become a member today. To join click here. Your contribution will support our global future.
Paul Kremer Founder IAMTC.org